ER&D services rankings: the winner is…
We have created an interim ranking of the top ten ER&D service vendors. Several large ER&D service vendors are privately-held (e.g., IAV) or listed but providing visibility on their ER&D activities (e.g., TCS). So this ranking is incomplete but provides a good introduction to ER&D services' major vendors.
The actual rankings are in blue. We have added pro-forma revenues of vendors that made significant acquisitions. This is the case of ÅF, which is due to acquire Pöyry; of Akka, which acquired PDS Tech late Q4 2018. Also, Altran consolidated Aricent in its accounts from Q2 2018 onwards.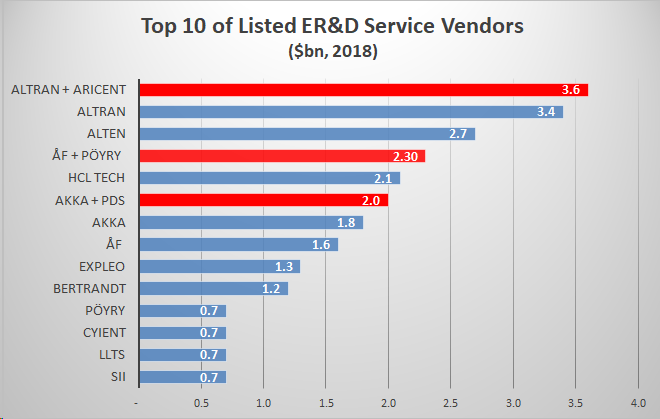 Despite the large M&A activity in 2018, the top five is unchanged with Altran, Alten, HCL Technologies, Akka and ÅF.
Of these five, HCL Tech continues to outgrow competitors with its peculiar strategy. Its pending acquisition of IBM software products might impact its ER&D revenues, as product development revenues are likely to move to internal R&D spending
Altran has had a difficult year from a stock exchange perspective. The company's operational performance was good in 2018 in spite of the merger distractions, and there were many
Alten continues to delivery quarter after quarter, steadily, having no debt and being the king of organic growth of all onshore vendors
ÅF is gradually ripping the benefits of its reorganization, under its new CEO, with organic growth accelerating gradually during 2018. However, the pending acquisition of Pöyry in Q1 2019 is likely to be disruptive
Akka resumed tier-one organic growth in 2018. The company has two challenges going forward: bring its profitability to industry standards, and succeed in its acquisition of a staffing vendor servicing Boeing, PDS Tech.